Custom Postcards & Name Badge Printing
Postcards are a marketer's dream. Their compact size makes them ideal for simple, targeted mailings, as well as larger, more full-fledged campaigns. Postcards are inexpensive and perfect for introducing new products, announcing upcoming events, or keeping in touch with customers on a regular basis.
Postcards make great front-counter handouts, box stuffers, and trade show materials.
Use postcards as a call to action. Enclose them with marketing materials and include them as a mailer with your mailing address for an easy customer response.
Grab attention and stand out from the crowd by using square or larger-sized postcards.
4.25 in. x 5.5 in.

4 in. x 6 in.

4.25 in. x 6 in.

5 in. x 7 in.

5.5 in. x 8.5 in.

4 in. x 3 in. (Name Badges)

Other sizes available
100 lb. Uncoated

100 lb. Matte

130 lb. Gloss

Other stocks available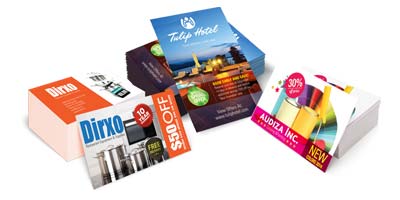 Full-Color Front – Full-Color Back

Full-Color Front – Black Back

Full-Color Front – Unprinted Back

Black Front – Black Back

Black Front – Unprinted Back

UV coating available

Round Cornering
UV Coating
UV coating, or ultraviolet coating, is a very glossy, shiny liquid coating applied to a printed paper surface and cured on a special machine using ultraviolet light. The coating hardens, or cures when it is exposed to the ultra violet radiation.
UV coating makes your printed piece eye catching, and is perfect for products such as postcards, hand-out sheets, presentation folders, posters, business cards and catalogs, or any product that can benefit from a rich, glossy and dramatic look.