Bindery and Finishing Services
Print Plus Web is a full service printer, which means we can do just about anything. In addition to printing, we provide the following services to help you complete your project.
Collating
Collating is the process of gathering individual sheets and other elements of your printing project and assembling those elements into a final product.
Copiers can collate automatically, but did you know that we can quickly and efficiently collate other items, too? Our high-speed collating equipment can bring together all the elements of your project, saving you the time it would take to hand-collate the project. The next time you have a big project that requires collating, keep us in mind – we make it so easy, you'll never want to hand-collate again.
Booklet Binding
We have many, many options to choose from when you need to bind your booklets, manuals, or catalogs.
Here are some of the more popular binding products and services we offer.
Our booklet making machine – A truly amazing piece of equipment that collates, staples, and folds loose sheets into very nice and professional looking booklets.
High Production Color Coil binding –

 is a bright, trendy binding element that has excellent bounce back memory.

This makes it an attractive method for those looking for something new and exciting, as well as something that can be mailed and stand up under adverse conditions.   Spines keep their shape and permanently bind to secure your documents.  Documents bound with color coil have the ability to open flat on the desk or table and offer 360° rotation for easier note-taking.
Color Coil

 

presentations bring polish to financial reports, legal documents, campaign overviews and more.   We offer high produciton color coil binding using Digipunch and GBC DigiCoil equipment.

We also provide printed or plain covers, clear acetate covers, and other types of bindings for specialty projects.
Rounded Corners
Rounded corner business card printing is a Print Plus Web favorite. Little things make all the difference, and this is even more true with rounded corner cards. Rounded corners give a subtle, detailed look perfect for professionals who are looking to show off their creative side. If you need to showcase your creativity in a low-key way, rounded corner business cards, magnetic calendars, or postcards may be just what you need.

Folding
When you need high-speed folding, you've come to the right place. Our bindery/finishing department provides many different options for folding. Our high-speed folding machines can fold at speeds exceeding 5,000 sheets per hour. Many different folding formats are available, and for more unique folding jobs, we also offer several hand-folding options.
We can provide unlimited quantities of folded materials for your special printed projects.
Creasing
One of the problems with digital printing is that the toner-based process tends to show cracking when folded.
But according to the good folks at Finish On Demand, there is a right way and a wrong way to fold digitally printed material.
The "little things" often separate a great job from a good one. One such little thing is creasing, which can significantly reduce or eliminate cracking at the fold for digitally-printed work.

What is Creasing? Creasing is a process that prepares the paper for folding by creating two parallel folding points. It is recognizable by the bead created on the inside of the fold. A score only creates one stress point for the paper to fold.

Why Creasing? Many folding jobs are susceptible to cracking and scoring often isn't enough to ensure crisp, accurate folds that eliminate this problem. Digitally-printed products stand an even greater risk of cracking at the fold because the process involves heating the sheets to fuse toner to paper, which tends to dry the paper out. Dry paper is more likely to crack.

A crease creates double fold points that reduce the stress on the fiber at each point. The paper folds a total of 180 degrees, but each stress point folds to a lesser degree. This seemingly small difference will reduce or completely eliminate cracking on most digitally printed jobs.
So next time you need to send a job out for folding, be sure to ask for a crease, not a simple score. You'll be able to see the difference.

UV Coating
UV coating, or ultraviolet coating, is a very glossy, shiny liquid coating applied to a printed paper surface and cured on a special machine using ultraviolet light. The coating hardens, or cures when it is exposed to the ultra violet radiation.
UV coating makes your printed piece eye catching, and is perfect for products such as postcards, hand-out sheets, presentation folders, posters, business cards and catalogs, or any product that can benefit from a rich, glossy and dramatic look.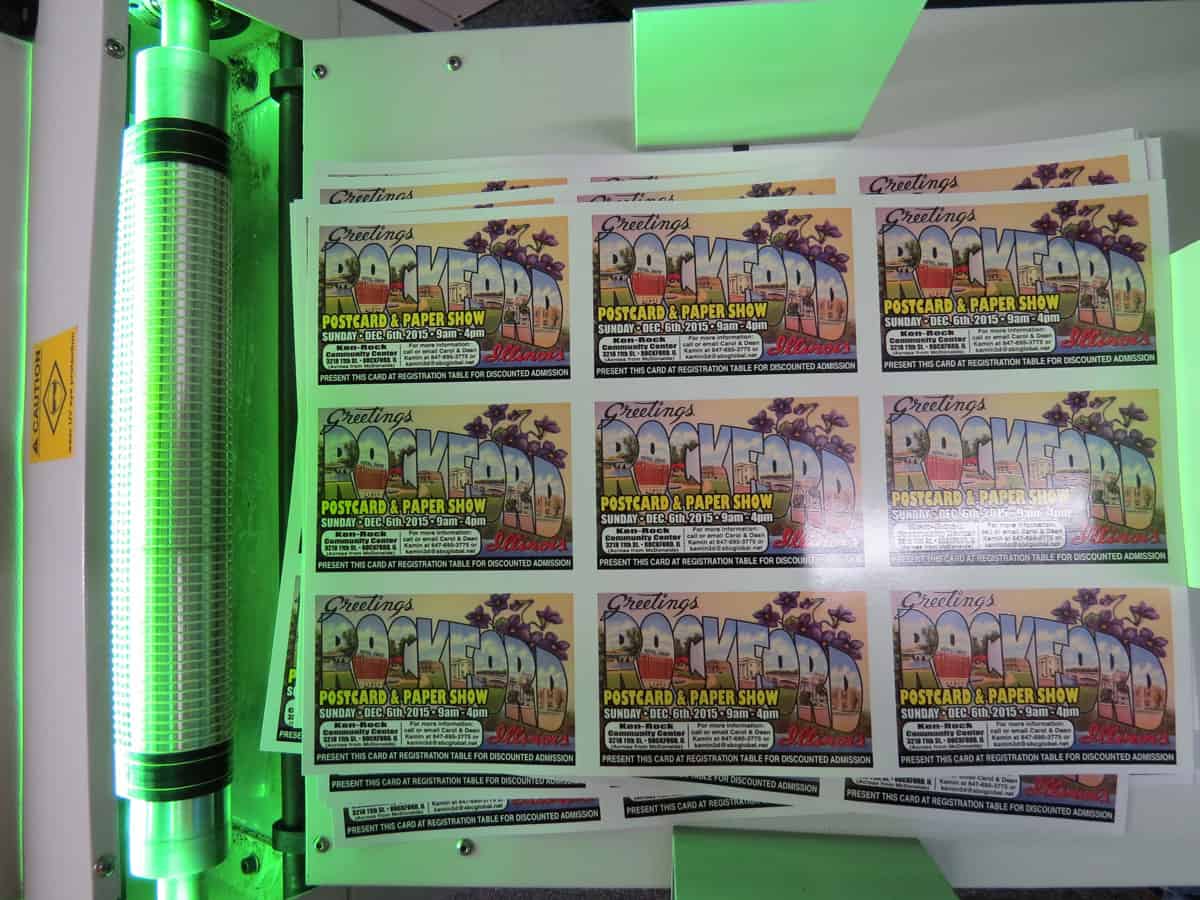 Thermography
When clients want to add a subtle enhancement or slight element of emphasis to a very special project they utilize our thermography printing services. It's ideal when you want something to really stand out.   Thermographic printing is a fantastic printing technique that is commonly used on greeting cards, wedding invitations, and other printed materials that require embossing with a natural look and feel to them.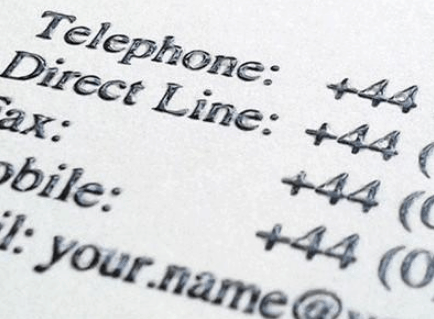 Hole Drilling
It sounds a little funny, but we're experts at drilling holes. We have powerful paper drilling machines that feature many different sizes of paper drills and enable us to position the hole just about anywhere on the sheet of paper. Just remember to allow 1/2 an inch of extra margin for three-hole drilling along the side of the sheet of paper.
Here's an interesting note: Did you know studies have shown that people tend to save printed items longer if they are three-hole drilled? Marketing experts think that subconsciously we tend to feel like we need to put a three-hole drilled sheet into a ring binder or save it for future reference.
Laminating
Simply put, laminating prolongs the life of your printed projects. How?
Increases durability
Preserves colors
Enables your projects to withstand moisture
And protects your projects from fingerprints, abrasions, and smudges.
In addition to the many ways it preserves your projects, laminating also has the power to revolutionize your presentations by allowing for hassle-free display of your documents under a variety of conditions. Plus, the glossy finish gives your projects a professional look that you can be proud of.
Next time you want to add a little something extra to your printing, let us laminate your printed projects for you!
Numbering
Many carbonless forms and invoices require sequential numbering. Numbering is an inexpensive and effective way to maintain accurate records and improve organization.
We can number a variety of papers and sheet sizes. Choose from black or red ink, as well as descending or ascending numbers on most printed projects.
Paper Cutting
We have very sophisticated, computerized, digital paper cutters that are extremely fast and accurate.
Our commercial paper cutters feature high-pressure hydraulic clamps to prevent paper shifting and razor-sharp carbon steel blades to guarantee the most precise cuts.
Perforating
Perforating a printed form can create an easy-to-remove response card, coupon, or customer feedback form.
Our wide variety of perforating blades gives you flexibility when designing pieces that need to separate effortlessly. We can also design pieces that can stand up to the rigors of post office mailing equipment without pulling apart.
Our highly trained and knowledgeable staff will happily offer suggestions and solutions for your perforating needs.
Stitching
Did you know that "stitching" is another word for stapling? The only difference is that the phrase stapling is generally used when you're trying to bind together no more than 40 pages. Stapling is done with lightweight desktop equipment. Stitching generally requires an industrial-sized, floor-mounted piece of equipment. At our printing firm, we have a variety of stapling and stitching machines that can handle any type of book or printed project you need to assemble.
Stapling
Stapling is one of the simplest – and most effective – methods of binding used today. In addition to stapling loose sheets together through the front of the page, we can saddle-stitch (staple through the spine) magazines and other multi-page items such as catalogs, annual reports, and newsletters.
Saddle-stitching is a sturdy, durable, and attractive binding option. The number of pages our saddle-stitching equipment can bind together varies depending on the weight of the paper used, but the results are the same every time: nice, clean, and professional.
Shrink Wrapping
We use high-quality shrink wrap materials to provide you with an attractive and secure method of bundling larger quantities of printed materials. Our versatile shrink wrap process uses semi-automatic equipment to meet high-volume demands without compromising quality. We can shrink wrap materials as small as a business card and as large as 8.5 x 14 sheets.